Local Resources:
Covered Bridge District Website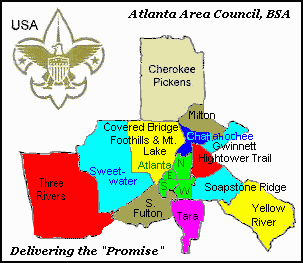 Atlanta Area Council Website
Cherokee Pickens District (SNFS Resources)
Scout Expo Website Georgia Cub Scout Packs by pack number Powder Springs Cub Scout pack 405 website Powder Springs Cub Scout Pack 760 website
Leader Resources:
The Virtual Cub Leader's Handbook
Cubmaster and Leader Resources
Baloo's Bugle Online Cub Scout Roundtable
Cub Scout Fun Page (Pack 114, Ft. Calhoun, NE)
Webelos Help Page (Pack 114, Ft. Calhoun, NE)
MakingFriends.com (a crafts resource page)
Webelos Activities Badge Requirements (Pack 846, Milford, OH)
Another Webelos helps site (Pack 479 in Minnesota)
InsaneScouter (Clip Art, Forms, Ceremonies, Leader Helps)
National Resources:
Boy Scouts of America Official Website
US Scouting Service Project (USSSP) link for joining the cub scouts
Miscellaneous Resources:
S. Texas BSA Council Website (links to various online trainings) Scouting Fact Sheets facts about various scouting aspects. Cob County Schools Click here to get directions to the Scout Store to purchase all of your scouting needs and uniforms. Directions for Bert Adams Scout reservation here. Directions for Woodruff Scout reservation here.
October Roundtable links:
General Scouting Links www.scouting.org www.macscouter.com www.scoutxing.com www.boyslife.org www.scoutingmagazine.org www.usscouts.org www.scoutingthenet.com www.geocities.com/~pack215/hist-cshistory.html
Craft & Project Idea Links www.orientaltrading.com www.enchantedlearning.com www.kidsdomain.com
Pinewood & other "Derbies" www.maximum-velocity.com www.artofinvention.biz/Organize/ www.pinecar.com www.riherds.com
Online Groups & List Servers http://groups.yahoo.com/group/Cub-Scout-Talk http://groups.yahoo.com/group/cbscouters
Great Pack Meeting Ideas www.goldenarrow.org/training/powwow-courses-2003.pdf www.wtsmith.com/rt/packmtg.html www.wtsmith.com/rt